Telford & Wrekin Council, working with Wellington Town Council and the Wellington Regeneration Partnership has produced a Strategic Regeneration Framework (SRF) for the town, setting out a bold vision for the future of Wellington Town Centre. This was informed by feedback from resident surveys and with local businesses.
The SRF defines an important historic core within Wellington Town Centre, which is part of the Town's Conservation Area and which contains many of the Town Centres key assets including Wellington Market, Market Square, the rail and bus stations and the historic 'lanes' of Duke, Crown and Bell Streets. This area is the focus of Wellington's Towns Fund investment project.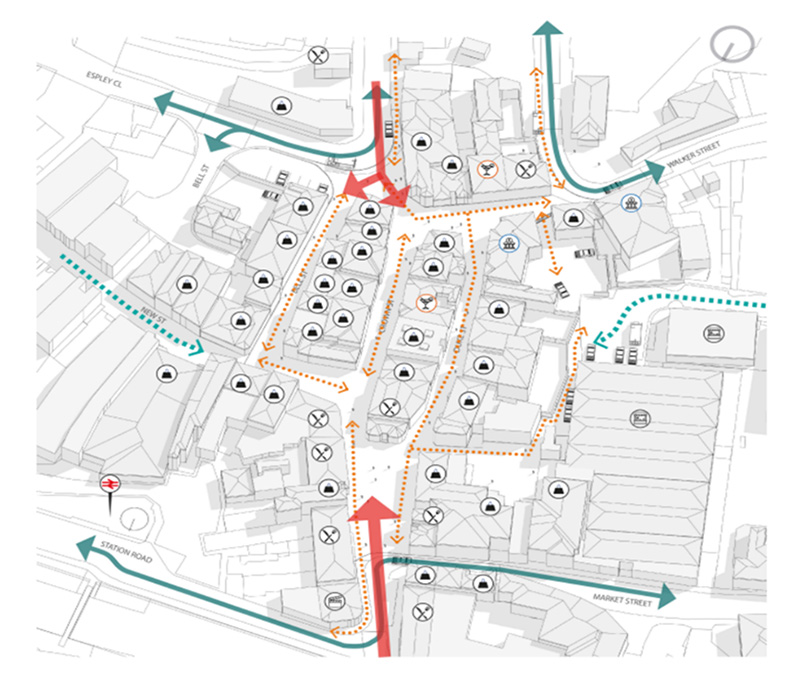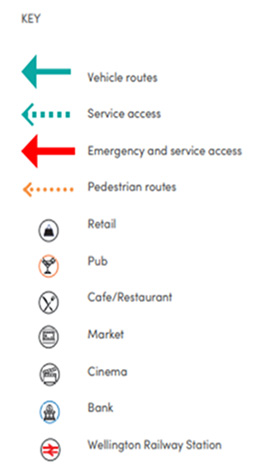 Wellington Town Centre faces a number of challenges to evolve and adapt to meet the changing roles that high streets play in communities. The days of large retail operators have gone and the town centre has a number of large retail units in high profile locations that have been empty for some years because they are of the wrong size to meet retail needs. While investment through the Council's Pride in Our High Street (PIOHS) programme has had an impact there remain buildings in the conservation area which are in poor condition with a lack of investment over many years and some of these buildings are now under threat.
For centres like Wellington to thrive they need to be safe, clean, varied and attractive. Given competition between areas it is important that Wellington be distinctive in its offer as well as providing key services for surrounding communities with a choice of retail, leisure and food and drink options. The medieval street layout around Market Square, Duke, Crown and Bell Streets has the potential to drive this offering a varied and interesting shopping and leisure experience, characterised by independent and quality hospitality businesses. However, there are a number of empty units in this area that are in poor condition.
The vision for Wellington is of a modern reinterpretation of the traditional market town - a vibrant centre that meets the new and evolving needs of the community. The Wellington SRF identifies a number of opportunities to transform the economy of the town centre including:
The development of a strong independent food and drink offer...with a focus on independent and start-up food retailers. A reinvigorated food and drink offer will not only help bring redundant buildings back into use, it will support Wellington Market and help to retain existing and attract new residents to the town centre.
The redevelopment of underutilised, dilapidated buildings within the town centre would be a great opportunity to create more and good quality residential space both in empty buildings and above retail space which will help to create a more vibrant town centre.
A re-design of the public realm will encourage increased and varied use of public spaces which currently lack atmosphere and vibrancy. This is particularly important in Market Square, which has the potential to act as the main focal point and 'destination' for the town centre throughout the daytime, evening and weekends.
Next steps
The transformation of Wellington has already started with significant investment already being made by Telford & Wrekin Council through its Pride in our High Street Programme. More than 40 businesses have already been helped to start up in empty premises and in Wellington Market through the Council's grant programme, which includes a number of food and drink offerings.
Wellington Market is being transformed with a growing 'Food Court' and a dedicated outdoor space for live music. The look of the high street is changing through the Council's property façade improvement programme which is re-painting retail premises in heritage colours and with new signage and facias.
All of this activity will now be boosted by the investment of Wellington's Town Deal funding which has been awarded by government to enable the Council to address the redevelopment of key buildings and carry out public realm improvements in the heart of the Conservation Area of Market Square, Crown, Duke, Bell and Walker Streets.
Conditions surveys have been commissioned to establish those buildings within this area that are most at risk and have the greatest potential for redevelopment and to estimate the cost of redevelopment. At the same time discussions are taking place with property owners.
A programme of schemes will be established with investment made on a phased basis in line with Government set timescales, with those buildings most at risk/with the greatest potential dealt with as a priority.
Work is also underway to develop ideas for how the public realm in the area could be improved to create a sense of 'destination'. There will be engagement with residents to get their views about these proposals through a public exhibition in 2023.