You are here:
Home
|
Latest News
|
News
| Council secures Harper Adams University as education partner for Station Quarter development
Latest News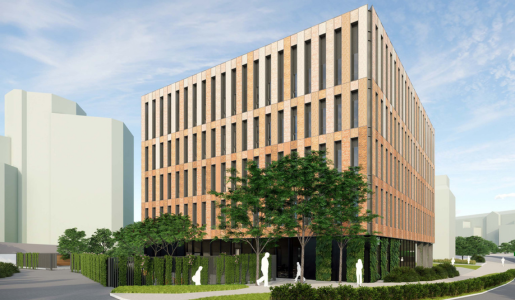 Tuesday, 8 August 2023
Council secures Harper Adams University as education partner for Station Quarter development
Harper Adams University has joined the Station Quarter development in central Telford alongside Telford College as an education partner for the digital skills and enterprise hub.
The hub aims to provide a digital-focused provision, leveraging the expertise of local institutions to deliver cutting-edge educational opportunities to students and businesses.
Harper Adams University (HAU), renowned as one of the top universities in the world, brings its forward-thinking approach to Digital and Engineering and extensive experience working alongside industry leaders in the sector.
Alongside Telford College, known for its commitment to providing high-quality education, this partnership will pave the way for innovation, knowledge exchange and the development of crucial digital skills.
Councillor Eileen Callear (Lab), Telford & Wrekin Council's cabinet member for education, employment and visitor economy, expressed her enthusiasm for the collaboration, saying: "We are delighted to welcome Harper Adams University as an education partner for the digital skills and enterprise hub."
"The university's exceptional reputation and expertise will undoubtedly enrich the digital-focused provision offered within the hub."
"This partnership highlights our commitment to providing diverse and industry-relevant education, fostering innovation and driving economic growth in our region."
Graham Wynn, Chair of the Telford Town Board, said, We are delighted to have Harper Adams as our strategic, higher education partner locating in the new teaching and learning centre, as part of the Station quarter development.
There are significant synergies in Harper Adams degree level programmes that are a perfect fit for our business community who will benefit from the opportunity of a wide range of degree level courses in business, engineering, digital skills and manufacturing.
Station quarter is a significant development in ensuring Telford's continued success and future prosperity.
Professor Ken Sloan, Vice Chancellor of Harper Adams University, said: "We are thrilled to join forces with partners in the digital skills and enterprise hub."
"This partnership presents an exciting opportunity to leverage our expertise in digital innovation to benefit students, businesses and the wider community."
"Together, we can create a dynamic learning environment that nurtures talent, fosters collaboration and contributes to the growth of digital skills in Telford."
The digital skills and enterprise hub aims to become a regional focal point for digital and business learning.
HAU will enhance the hub's offerings, providing students with access to cutting-edge educational programmes and industry-relevant training.
It will also foster innovation and entrepreneurship, reinforcing Telford's position as a hub for digital skills and technological advancements.
Graham Guest, Principal and CEO of Telford College, said: "We are proud partners in the Station Quarter development which will play a pivotal role in shaping the future workforce and driving economic success in the region.
"For us, this is all about building close partnerships with business. We see it as a unique and ambitious alliance between industry and education, which will raise everyone's aspirations.
"It is an opportunity to make the college even more accessible to people across the borough, retaining important skills in the town, and supporting local employers to develop the sort of workforce they require."
Sam Wilkinson, General Manager of TAFE UK, said: "We are delighted to learn of this latest development in Telford and that Harper Adams has become an education partner for the digital skills and enterprise hub.
"TAFE has worked closely with Harper Adams for over six years in terms of technical innovation and this latest development further strengthens Telford's and the region's digital expertise.
"HAU's links to industry are excellent and we have located our business within Newport so that we are close to the university and can continue our important partnership.
"The innovation opportunities in the region are constantly growing, helping further attract skills, and we continue to collaborate with local businesses in Telford and Wrekin who will benefit enormously from the hub."
For more information on Station Quarter, visit the Telford Towns Fund website.