You are here:
Home
|
Latest News
|
News
| Council approves planning for transformative Station Quarter
Latest News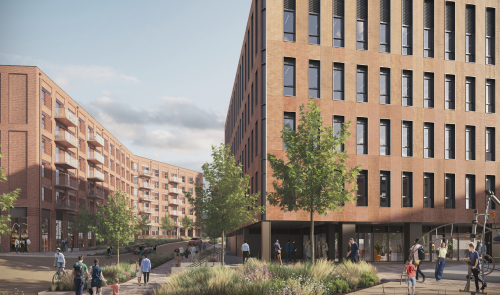 Wednesday, 14 June 2023
Council approves planning for transformative Station Quarter
Telford & Wrekin Council is pleased to announce the planning approval for the transformative Station Quarter project, a significant milestone in the regeneration of Telford Town Centre.
This approval follows on from the enabling works planning consent which was issued last year and has facilitated the major remodelling of the site to create development platforms and ready the site for the implementation of the Station Quarter masterplan.
This further approval will support the implementation of the Council's ambitious plans to create a vibrant and sustainable urban space that will enhance connectivity, provide high-quality housing and commercial opportunities, a state-of-the-art digital skills and enterprise hub, and create new public spaces for residents and visitors.
Proposals will regenerate a brownfield site at the heart of Telford Town Centre and see the creation of a new mixed use gateway from Telford Central Train Station into the heart of Telford Town Centre, which has long needed a revitalisation.
With the invaluable input from local businesses, partners, and the community, the council have crafted a long-term vision to transform this area into a thriving hub of activity, innovation, and connectivity.
Councillor Shaun Davies (Lab) Leader of Telford & Wrekin Council said, "This further planning approval for Station Quarter marks an exciting chapter in Telford's growth. This project represents our commitment to creating sustainable, modern, and accessible spaces that meet the needs of our residents. We are dedicated to building a prosperous future for Telford, and Station Quarter is a significant step forward in achieving that vision."
Councillor Lee Carter (Lab) Cabinet Member for Place (The Economy & Neighbourhood Services), emphasised the positive impact of the development, saying, "The Station Quarter project will be a catalyst for positive change in Telford. With improved connectivity, state-of-the-art facilities, and a focus on sustainability, it will enhance the quality of life for residents, attract new businesses, and reaffirm Telford as a vibrant place to live, work, study and visit."
Phase 1 of the Station Quarter project will include the development of a digital skills and enterprise hub, a hotel189 townhouses and apartments and new and improved public spaces including the creation of an at-grade crossing and gateway ramp and steps, linking Telford train station to Telford Shopping Centre.
The digital skills and enterprise hub will provide education and business start-up spaces to enhance digital skills, cater to local employer needs, and empower residents of all ages.
The addition of a new, high-quality hotel will bolster Telford's reputation as a premier shopping, leisure, and conference destination in the region.
Additionally, the construction of low-carbon apartments and town houses, being delivered by the Council's wholly owned housing company, Nuplace, and housing association partner Legal & General Affordable Homes, will be available on a private rent, affordable rent, and shared ownership basis, and will kick start the creation of sustainable, high-quality urban living in central Telford.
Key milestones for Station Quarter include starting phase 1 construction work from summer 2023 with works scheduled for completion by 2025.
The project is being partly funded with £200 million pound investment of match-funding from the private sector, as well as £22.3 million from the central government's Towns Fund.
For more information on Station Quarter, visit the Telford Towns Fund website.