You are here:
Home
|
Latest News
|
News
| Telford theatre and skills hub plans get £20m from Government Levelling Up fund
Latest News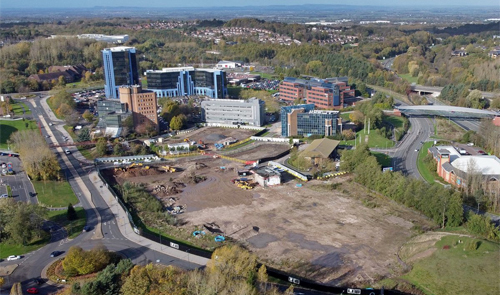 Thursday, 19 January 2023
Telford theatre and skills hub plans get £20m from Government Levelling Up fund
The redevelopment of Telford Theatre and a new town-centre digital skills hub, have received a £20m boost from the government.
Telford & Wrekin Council has been awarded the money as part of round two of the government's Levelling Up fund.
Shropshire council has also received a significant boost with £18.7m towards the re-development of Shrewsbury's Riverside.
Shropshire Council bids for funding for improvements to Oswestry, a new roundabout and bridge over the railway on the A49 at Craven Arms, and money for major improvements to the county's bus networks and Shrewsbury's park and ride, have not been included.
It is understood that a third round of funding will follow – where the bids could be revisited.
The government said the successful Telford & Wrekin bid would go to "remodel the Telford Theatre" as well as towards the new digital skills hub which will be part of the town-centre Station Quarter development.
The Wrekin's Conservative MP, Mark Pritchard, welcomed the announcement.
He said: "This is fantastic news for Wellington and the borough."
"This is a huge and new injection of more funding and investment into Telford and Wrekin."
"The levelling up fund will invest into the borough's local education and local cultural offer and it is a Conservative Government and Conservative MPs who are helping to deliver it."
Councillor Shaun Davies, the Labour leader of Telford & Wrekin Council, said: "Without the council's track record of delivery, along with the compelling bid from the council, this funding would not have been secured."
"The council's successful bid will now facilitate millions of investment from the private sector into these projects."
"As a council on the side of our residents and communities we have fought hard to make the case to government of our funding bid."
"We believe we made an impressive and transformational case."
"We now move to the next phase and we will work with local councillors, parish and town councils, and our partners to get on to delivery."
Shropshire Council's Riverside plans have been years in the making – and are central to the authority's much-criticised decision to buy the town's shopping centres.
The plans would see the demolition of the Riverside Centre, as well as the nearby Raven Meadows multi-storey car park, bus station and Pride Hill Shopping Centre – which closed in 2021.
A new leisure site would replace it, with intentions for it to host a cinema, along with a new multi-agency base or 'Shirehall', a 'transport hub', up to two hotels, offices, and up to 270 homes.
A main feature of the plan is improving the public space, providing a destination for people to visit.
Estimates from the council say it could lead to another 750,000 people visiting every year, as well as creating 2,000 jobs.